Protocols for maritime heritage management
As owner and manager of Dutch waters, the government plays an important part in maritime heritage care. In the absence of responsible management, the many wrecks that are located all over the world would eventually disappear. Therefore, the Cultural Heritage Agency (RCE) and (international) partners identified steps that need to be taken in order to establish sustainable heritage management, and the responsibilities attached to those steps. This collaboration resulted in policy, protocols and a prefered manner of working, meant for, amongst others, maritime heritage professionals, managers, governments, and third parties who discover finds. 
The protocols will be regularly checked against the current situation, and the RCE is open to suggestions for improvements. Every year, the RCE will review whether protocols need to be adjusted.
This page provides an overview of protocols for maritime heritage management. They are also available in Dutch.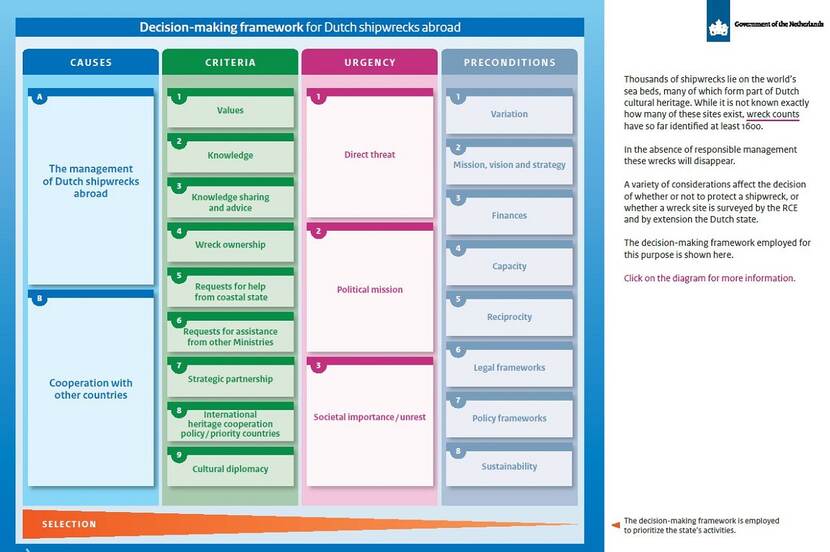 Decision-making framework for Dutch shipwrecks abroad
Various decisions need to me made to determine if a shipwreck will be protected, or if a location will be analysed by the Dutch government (RCE). This decision-making framework will aid in this.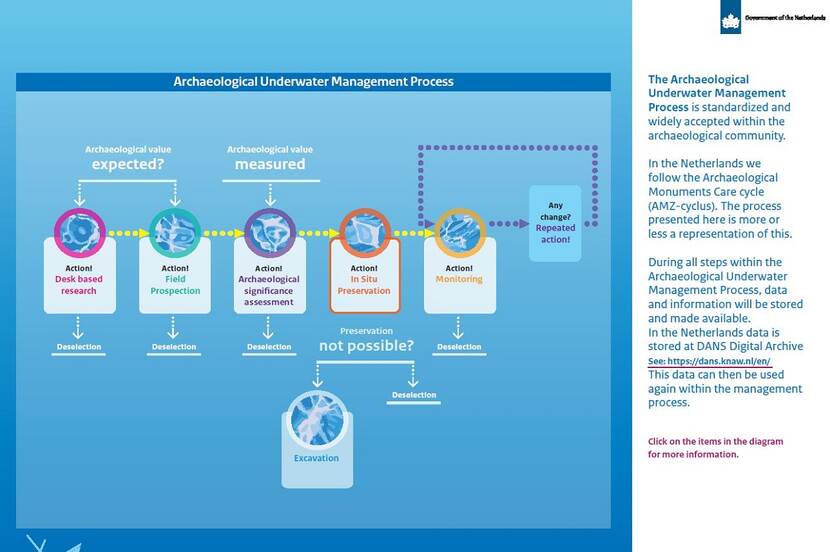 Archaeological Underwater Management Process
In the Netherlands we follow the Archaeological Underwater Management Process to manage shipwrecks. This flowchart describes this process.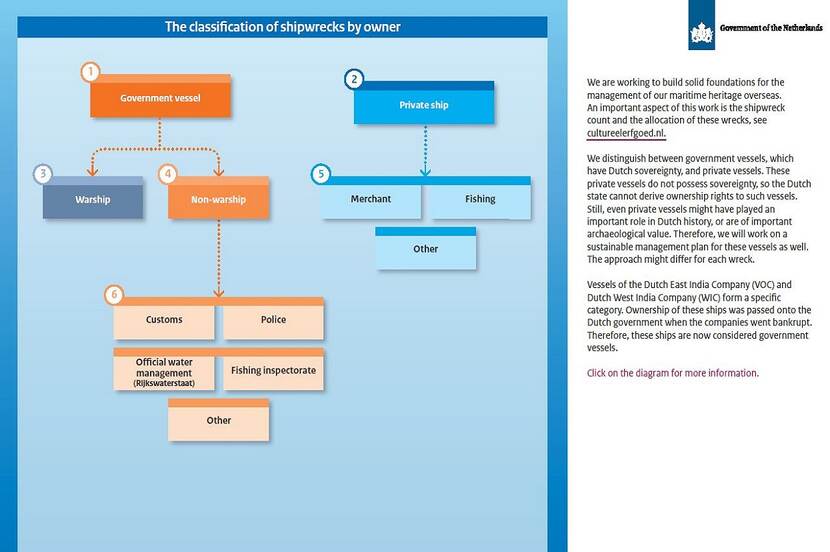 Classification of shipwrecks by ownership
An important distinction in the management of Dutch shipwrecks is whether they are state-owned or private vessels. This diagram illustrates this distinction.
Reporting foreign shipwrecks in Dutch waters
This flowchart shows how a find of a foreign ship in Dutch waters should ideally be reported, and what happens after the find is reported.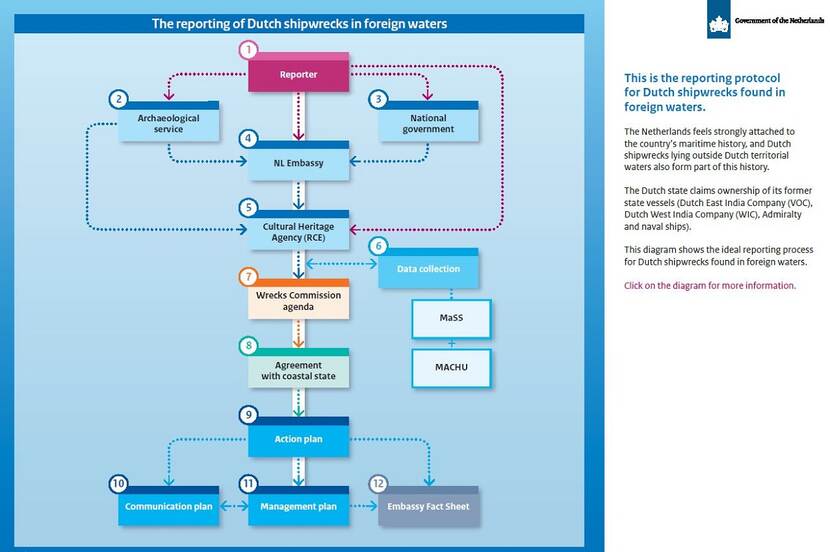 Reporting Dutch shipwrecks in foreign waters
This flowchart shows how a find of a Dutch ship in foreign waters should ideally be reported, and what happens after the find is reported.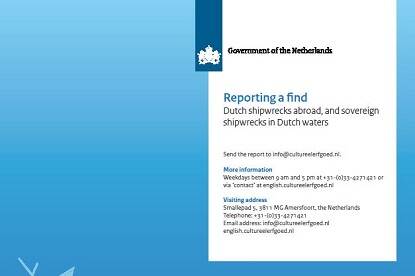 Find report form maritime objects
This digital form can be used to report the find of Dutch wrecks in foreign waters and sovereign wrecks in Dutch waters. The information will be added to the maritime database MACHU.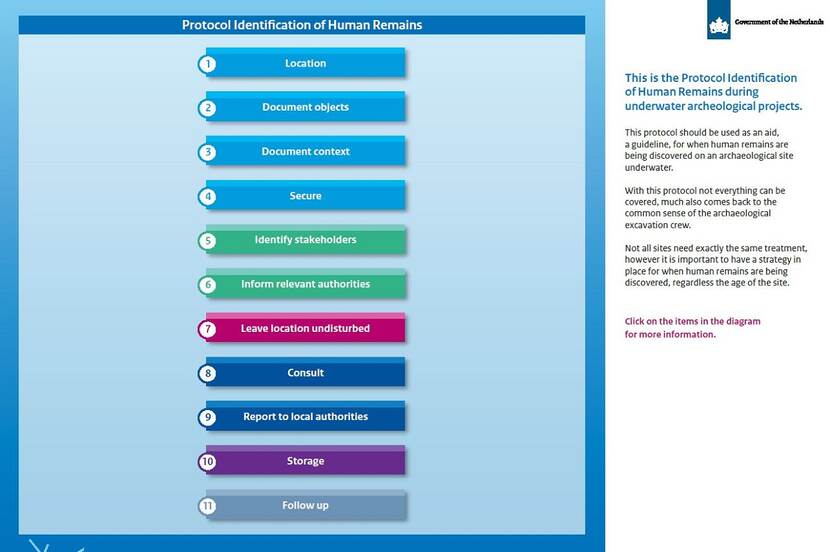 Protocol for handling human remains
When investigating shipwrecks, there is a high probability of also finding human remains. This flowchart provides more information about the steps that need to be taken while handling human remains.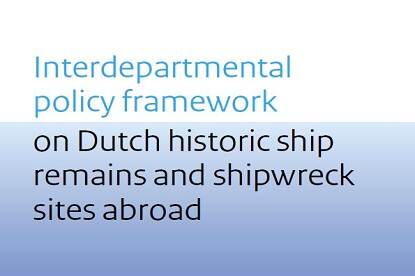 Interdepartmental policy framework on Dutch historic ship remains and shipwreck sites abroad
Various ministries work together on policy for management of underwater heritage and its implementation, as presented in this interdepartmental policy framework.
Creation of documents
These documents draw on the information already available within Dutch heritage management, but also on international practice. For instance, Dutch archaeology quality standards were consulted and use was made of the best practice rules for underwater archaeology described in the Annex to the 2001 UNESCO Convention on the Protection of the Underwater Cultural Heritage. Ideas, schematics, and proposed protocols were tested against projects already being carried out within the International Programme for Maritime Heritage (2017-2021) of the RCE. To clearly identify the different management steps involved, use was first made of the SASMAP Guidelines describing underwater archaeological monument conservation  step-by-step.
The protocols should ensure a clear division of tasks and responsibility of the various stakeholders. In general, the protocols should also lead to a better policy and protection of Dutch shipwrecks worldwide and a fair and clear reciprocity for foreign sovereign vessels in Dutch waters. A reporting protocol for aircraft wrecks abroad is still being worked on.
These documents were created in the framework of the International Programme for Maritime Heritage (2017-2021)