Malaysia and the Netherlands agree on partnership management of maritime heritage
On 26 June 2019, Malaysia and the Netherlands have taken an important step in future cooperation on protecting maritime cultural heritage. The Cultural Heritage Agency of the Netherlands (RCE) and the Ministry of Foreign Affairs of Malaysia, have reached an agreement on this important topic.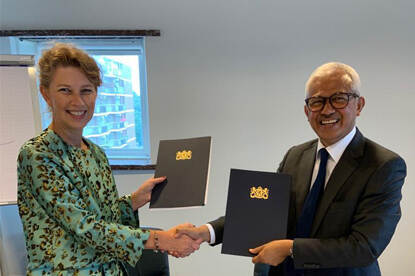 The agreement relates to general cooperation, managing underwater cultural heritage, the exchange of knowledge and data, marine archaeological research, and capacity building and public support. General Director Susan Lammers signed the agreement on behalf of the RCE, and Ambassador Dato' Ahmad Nazri Yusof signed on behalf of the Malaysian Ministry.
Shipwreck locations to be investigated further
Specifically, the Netherlands and Malaysia intensified the investigation and management of the locations of two sunken Dutch submarines. There are several wrecks in Malaysian waters, including two other submarines from the Second World War. In the summer of 2019, the RCE, in collaboration with the Ministry of Defense (Royal Netherlands Navy), the Ministry of Foreign Affairs and its Malaysian colleagues, have conducted a research expedition in Malaysia. These initiatives represent a major step forward in the fight against illegal looting and the disappearance of warship wrecks that are resting on the sea floor.
Martijn Manders, maritime archaeologist and manager of the International Maritime Heritage programme at the RCE, explains: 'Our work involves managing Dutch shipwrecks abroad on behalf of the Dutch government. Wrecks that date from the Second World War are in fact war graves, and we want to protect these as final resting places and 'lieux de memoire' (memorial sites). We are conducting research on these locations and make use of our expertise in the field of maritime heritage management, so that we can enhance our knowledge and the value of the information that we have about these sites. Managing wreck sites is primarily the responsibility of the countries in whose waters the wrecks are located, but we also wish to make a contribution. The data produced by joint maritime-archaeological research will help us to work together on better management and to protect the wrecks in the future.'