The 20th century has produced a wide range of art objects, buildings and industrial properties. The cultural value of this recent heritage is not obvious to everyone. Aspects of how to manage and preserve it also remain unclear. The Cultural Heritage Agency of the Netherlands (RCE) routinely gets questions about this from heritage professionals, private individuals and policymakers. The 20th-century Heritage Programme was created to supply answers. 
Challenges past and present
The preservation, management and presentation of 20th and even 21st-century heritage pose various challenges for heritage professionals. To properly care for and support the potential of modern Dutch heritage, they need knowledge. At present, that knowledge tends to be scattered or underdeveloped.
Thorough analysis of the most urgent questions and future prognoses requires understanding an object's past, as well as knowledge of historical materials and techniques and of the influence of restoration interventions and environmental factors such as light, temperature, damp and grime. The key to it all is the artist or architect: understanding which materials they used, and how.
Added to this is the more recent push to use sustainable processes and materials to support the energy transition. But does the substitution of original materials mean a loss of cultural qualities? And, if so, what new questions might this raise?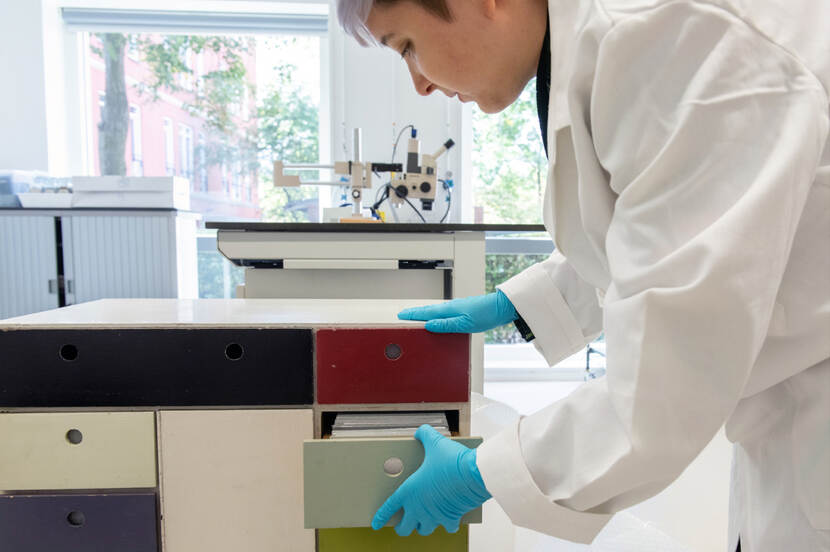 20th-century Heritage Programme
Increased knowledge about heritage can enhance both cultural appreciation for that heritage and awareness about how best to preserve, manage and present it. The 20th-century Heritage Programme therefore focuses on three themes:
Materials: building knowledge and expertise about material production, application and ageing
Tools for improving the Conservation and Preservation of objects and/or their constituent materials
Value and Use: promoting public appreciation and thus optimal use.
The key to achieving these objectives is thoroughly anchoring knowledge and exchange with partners, stakeholders and also the general public. Eight projects have been set up to delve into the three themes. They are listed below with brief descriptions. 
This programme, which runs from 2021 to the end of 2023, builds in part on the Cultural Heritage Agency's earlier Heritage of the Modern Age programme (2015-2019).
Collaboration and education
The Cultural Heritage Agency is conducting this programme in collaboration with many heritage sector partners both in and outside the Netherlands, including museums, universities, research institutes, municipal heritage keepers and architects, and other heritage organizations.
Stakeholders, policymakers and other participants will be invited to discuss ideas and provide input throughout the programme. 
Students and a range of education institutions will also be brought on board to work on the programme's subprojects.
Advisory board
Prof. dr. E. (Ella) Hendriks, Professor Conservation and Restoration of Cultural Heritage, Faculty of Humanities at University of Amsterdam
Prof. Ir. W. (Wessel) de Jonge, Professor of Heritage & Design at the Faculty of Architecture and the Built Environment, Delft University of Technology
Dr. S. (Sandra) Kisters, Head of Collections and Research at Museum Boijmans van Beuningen in Rotterdam
Dr. T. (Tatja) Scholte, Conservation of Contemporary Art, Senior Researcher at Cultural Heritage Agency
Ir. D. (Dirk) Houtgraaf, Strategic Advisor, Cultural Heritage Agency