Weblog
Weaponry and Ordnance
Hollywood and many modern romanticised stories fete the Age of Sail as an exciting time-period populated by dashing pirates, innovative treasure hunters, meticulous merchants, and swashbuckling sailors. In reality, travelling long distances by ship was a highly dangerous method of travel: thousands of Dutch East India Company employees, passengers, their families and servants died en route to Batavia.
Written by Alex Bliss for the #Rooswijk1740 Project
The worst dangers people were exposed to on voyages to the East were disease, food and water shortages and shipwreck. The ever-present threat of attack by nations in conflict with the United Provinces, privateers or pirates represented the 'icing on the cake.' In this blog we will talk about some of the armaments and ordnance found on the Rooswijk, including those utilised for defence of the ship, personal weapons and arms carried as cargo.
Is it a friendly or hostile vessel?
Englishman James Creassy (writing in May 1777 on his way to Bengal) provides a rare account concerning potential attack by hostile vessels. Although he was sailing forty years after the Rooswijk made her first voyage in 1737, the dangers he experienced were similar. Ten days out of England on the East Indiaman Seahorse, he writes in his journal as follows:
Saturday 10th: early in the morning saw a large ship to windward, it was at first taken to be an English Friget (sic) but soon afterwards all 'greed it was like an American Privateer. She sometimes stood high down upon us and sometimes kept her wind…a little before 10 o'clock the drum beat to armes and everyone seemed ready to do their best to defend the ship.
(source: rmg.co.uk / The Curious Journal of a Voyage to Bengal)
To the relief of the Seahorse the ship 'chasing' turned out to be a friendly vessel, which duly departed after collecting letters to send back to England. Despite the fact that this account dates to decades after the Rooswijk sunk and concerns an East Indiaman of Britain rather than the United Provinces, it drives home the point that the possibility of attack or conflict on these vessels was very real indeed.
Hand-held weapons on the Rooswijk
Dutch East India Company vessels ran heavily armed, their crews supplemented with companies of soldiers and marines who were often simultaneously being transported out to Batavia as garrison troops. For example, we know from written records that the Amsterdam (wrecked in 1748 at Bulverhythe) carried a complement of 203 crew, 127 soldiers and 5 passengers. Evidence for this on the Rooswijk is present in the form of large quantities of lead musket shot as well as well as copper-alloy side plates for muskets – the latter stamped with the VOC ownership marks.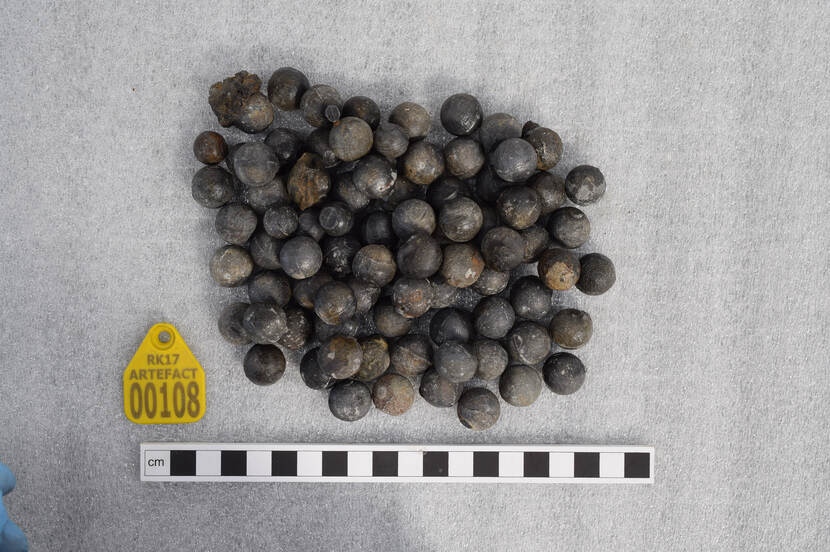 Some of these side-plates demonstrate deliberate modification with one end sawn off (thus enabling them to fit), probably a consequence of pairing them with newer patterns of musket. Additional indirect evidence comes from the presence of large musket flints, which could represent examples that have become disassociated from their original weapons or packaged spares being taken out to Batavia (which has no native flint deposits).
Additional indirect evidence comes from the presence of large musket flints, which could represent examples that have become disassociated from their original weapons or packaged spares being taken out to Batavia (which has no native flint deposits).
In addition to these we also have a pair of flintlock pistols preserved within a semi-concretion, wrapped in what appears to be mineralised wool or textile of some description. These appear to be personal sidearms rather than company weapons, though as they are conserved it is possible that 'VOC' marks might be revealed which are not visible on the X-Rays. Only de-concretion and remedial conservation will reveal this.
Cannon on the Rooswijk
In addition to hand-held weapons, the Rooswijk (as with all other Dutch East Indiamen) was also armed with cannon for the purpose of defence. Most 'retourschepen' were armed with upwards of 20 guns, though figures as high as 50 are not unknown. Thus far, 23 out of the 24 cannon the Rooswijk is believed to have carried have been identified – scattered across the four different areas of wreckage pertaining to the ship. These are all manufactured from iron and appear, based on tentative analysis, to be of the same calibre. Due to their size, weight and the cost to conserve them none were lifted during the excavations in 2017 and 2018.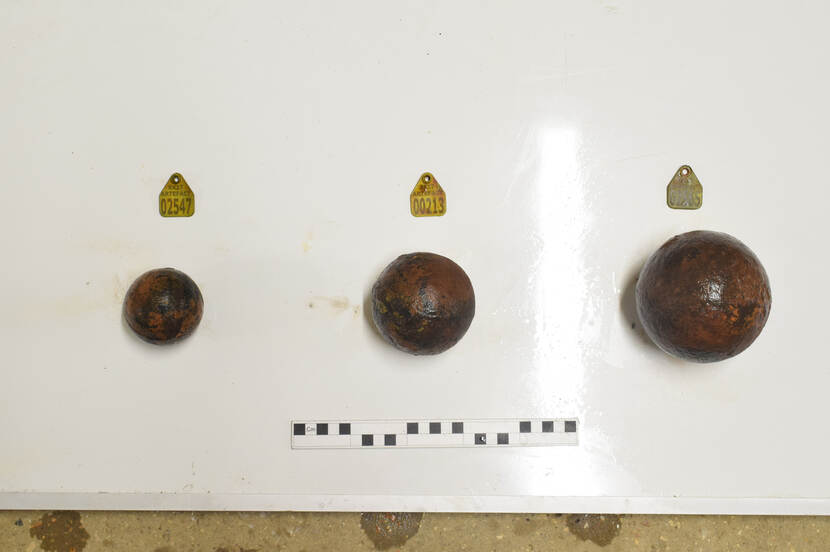 Cannon obviously are useless without ammunition, and we have recovered large quantities of this from the Rooswijk. The mainstay consists solid round shot (cannonballs) but in addition to this we also have bar-shot: effectively two smaller cannonballs conjoined by a solid connecting bar. This more specialised kind of ammunition, being more elongated than a solid cannonball, would have spun as it ejected from the cannon mouth – thus wreaking havoc on an enemy vessel's sails and rigging. This perhaps communicates well the doctrine applied to VOC ships and other East Indiamen during the period: that although they needed to be able to defend themselves, disabling an enemy vessel with mind to escape (and thus preserving the cargo) was preferable to a prolonged conflict where broadside for broadside they could be outmatched, boarded and captured.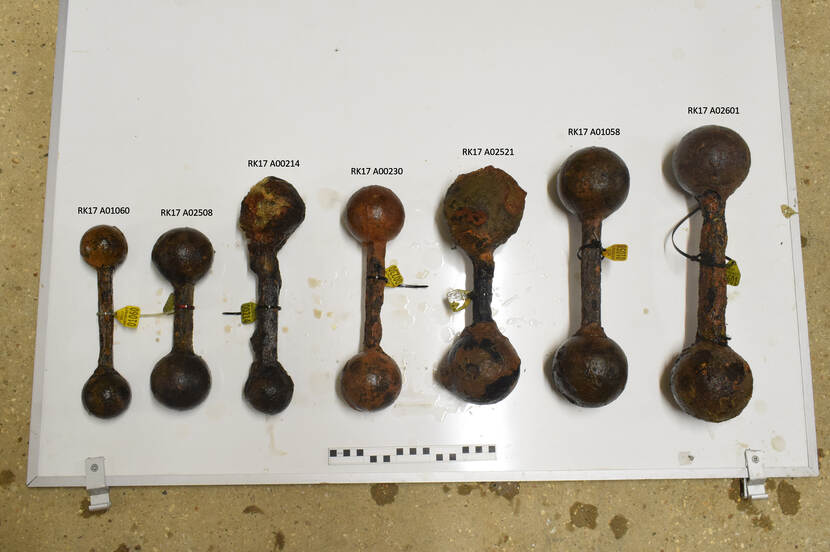 A chest full of sword blades
The final aspect of the weaponry carried about Rooswijk consists of that within the cargo. The 2005 salvage operation recovered several chests full of sword blades, as did the 2017/2018 excavations. While the latter are currently in wet storage awaiting de-concretion, the former have been exposed and treated – one of which demonstrates an ornately engraved floral pattern along the length of the blade. As these blades do not have attached fittings, guards and scabbards (which could have been produced locally with ease), what appears to have been important in this case is the importation of good quality steel.
We hope that this blog post has been interested and perhaps put paid to some of the Hollywood myths about sailing in the eighteenth century! In our next blog post, we will discuss a critical component of any ship: artefacts relating to cooking and lighting.
About the Rooswijk Project
The Rooswijk was a Dutch East India Company vessel which sank on the treacherous Goodwin Sands, off Kent, in January 1740. The ship was outward-bound for Batavia (modern-day Jakarta) with trade goods. The site is now protected by the Protection of Wrecks Act 1973 and all access is controlled by a licensing system administered by Historic England on behalf of the Department for Digital, Culture, Media and Sport. The ship's remains lie at a depth of some 25 metres and are owned by the Dutch Government. The UK government is responsible for managing shipwrecks in British waters, therefore both countries work closely together to manage and protect the wreck site. The Cultural Heritage Agency of the Netherlands, RCE, (on behalf of the Ministry of Education, Science and Culture) and Historic England (on behalf of the Department of Digital, Culture, Media and Sport) are responsible for the joint management of the Rooswijk.
An archaeological survey of the site in 2016, undertaken by RCE and Historic England, showed that the wreck site was at high risk. As a result, a two-year excavation project began in 2017. Wrecks such as the Rooswijk are part of the shared cultural maritime heritage across Europe and it's important that cultural heritage agencies are able to work together to ensure that sites like this are protected, researched, understood and appreciated by all. The project involves an international team led by RCE in partnership with Historic England. MSDS Marine are the UK Project Managers for the project.
More blog posts