Weblog
Rooswijk Shipwreck Excavation Update 2020
The Rooswijk was an East Indiaman belonging to the Dutch East India Company (VOC) which sank in Goodwin Sands on the 10th of January 1740. The wreck is owned by the Dutch Government and is jointly managed as a protected site by the Cultural Heritage Agency of the Netherlands (RCE) and Historic England. Together with their contractor MSDS Marine they under took two phases of excavation in 2017 and 2018.
Written by Heather Stewart on behalf of the #Rooswijk1740 project
The wreck
The protected nature of the wreck means it is only possible to visit the site with a permit (and of course with the site being underwater a diving qualification) but don't be disappointed a collaboration between the Archaeologists, ArtasMedia and CyanSub has given us the opportunity to see the wreck and it's finds as part of a virtual tour!
Conservation
The 2018 excavations recovered an additional 355 artefacts and 17 timbers which were assessed by the Project Conservator and Archaeologist ready for the next phase of post-excavation. In total the excavations have yielded 2500+ artefacts of varying materials which will now be investigated, recorded and conserved.  
Recently the project has focussed on conserving the large collection of silver-alloy coins recovered from the wreck, at present there is roughly 1742 coins with some still in larger concretions. Dutch conservators Elizabeth Kuiper and Marianne Nuij were tasked with working through the vast numbers of Pillar Dollars, Ducatons and Spanish Reales (pieces of eight) to allow numismatist Jan Pelsdonk to effectively assess the material.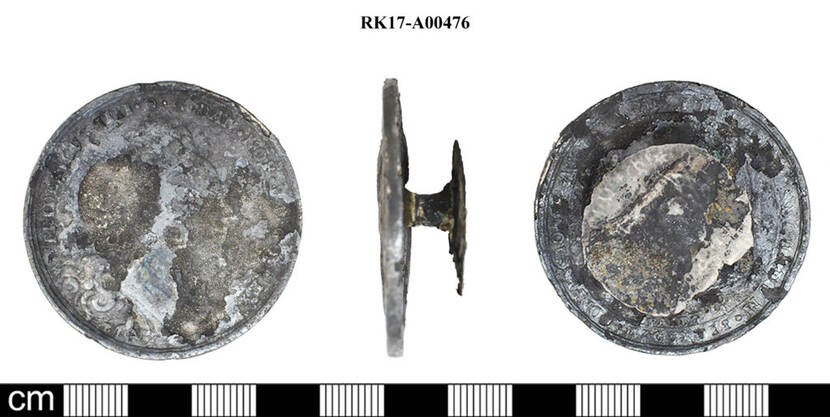 While working on what they thought was a stack of coins concreted together the conservators began to notice something unusual which led to an exciting discovery! The object was identified by Project Officer Alex Bliss to be a rare commemorative medal issued under Frederick IV of Denmark and Norway in 1717 to celebrate the 200-year anniversary of the Protestant Reformation. You can find out more about the artefact on the MSDS blog page along with other exciting news and information about the project.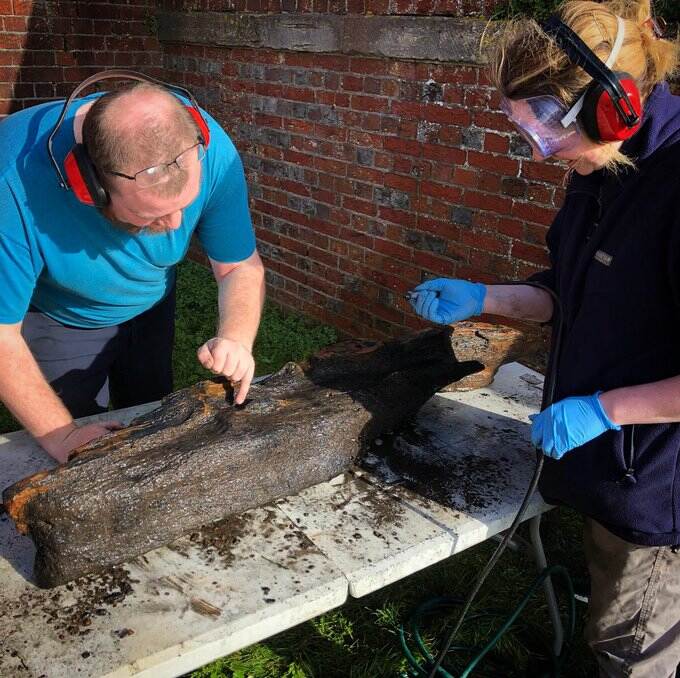 Investigation
The current focus of the Rooswijk project is cleaning the timbers recovered from the ship ready for recording and dendrochronology. This will involve illustrating the timbers as well as sampling once recording is completed. Recent research has included, wood species analysis of timbers, the identification of animal bones, XRF of the silver-alloy coins and analysis of glass beads by SEM. Regular volunteer Christine has also been investigating the Rooswijk ceramic assemblage with specialist Duncan Brown.
Community engagement
Post excavation has provided the opportunity for a number of students and volunteers to engage with collection and take part in courses hosted by MSDS and NAS. Unfortunately with Covid-19 affecting the UK outreach and volunteer work is on hold, but in the meantime feel free to catch up on the project with the MSDS blog page, or on Twitter.
More blog posts