Weblog
More insight in the thirty shipwrecks around Christmas Island (The Fortuyn)
We are now reasonably confident that the 1724 Fortuyn does not lie between 0-30 meters in the water off Christmas Island. We have re-run the priority areas on the south-west side of the island with a more sensitive magnetometer (for detecting magnetic iron objects such as anchors and cannon) than we employed in 2015.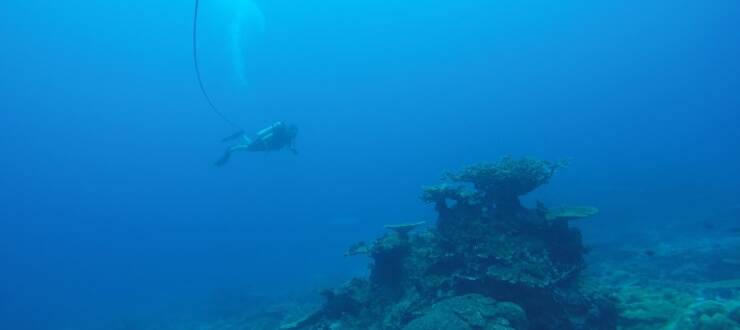 Divers have visually inspected all of the promising anomalies without seeing cultural material. Some of the anomalies have been discounted because they appear to have been affected by the magnetic basalt rock forming the core of the island.
We did some more photogrammetry in the last couple of days to hone our skills. This time we tried to do an object underwater and chose a mooring anchor. The computer is still crunching the data so we'll show you the result in the next blog!
Christmas Island is fringed with a thick underwater coral platform. Its width varies and most of it slopes gently before curving steeply downward into the depths. During the last two weeks we have been following up on stories from the Dutch Facebook followers and the Christmas Island community about other shipwrecks here or nearby, in particular the Dutch ships, the 1100 ton Arinus Marinus wrecked in 1821 and the 500 ton Vice Admiraal Rijk wrecked in 1852, but also a lot of others.
The Dutch ship named the Vice Admiraal Rijk was lost on the south-west side of the island in 1852. Three men survived, managing to scale the cliffs and living ashore on raw seabirds for 57 days before being rescued by another passing ship. One of the three men left a detailed account of the wreck and his experience on the island. Around midnight the ship crashed onto the cliffs on the north side of the south-west point, breaking a large hole in the bow before turning out from the cliffs and immediately sinking entirely below the waves, with all sails still set.
We regard the Vice Admiraal Rijk as a useful model for assessing what would have happened to the Fortuyn if it struck the south-west coast. So we placed a major focus on inspecting the north side of the south-west point, carrying out a visual inspection of the anomalies and then swimming abreast along the coral platform. We saw no wreckage.