Weblog
The Great Ship Swallower
The work is progressing well. We have a team that's fun and running smoothly. This is also necessary, because the circumstances are very difficult. Of course we knew this after our experiences last year, but due to 9 weeks of northern wind, there has been a lot of swell for a long time. Sometimes it was so high, the diving zage was thrown up and down. On those days we could not dive. It has also changed the tide. Yesterday we had a tide of only 8 minutes. Yet we have continued and got a team in the water. The weather is now quieter and the tide is also longer. In total, we have already made many dives, often short and with poor visibility, but still ... The Goodwin Sands are not known for nothing as the Great Ship Swallower!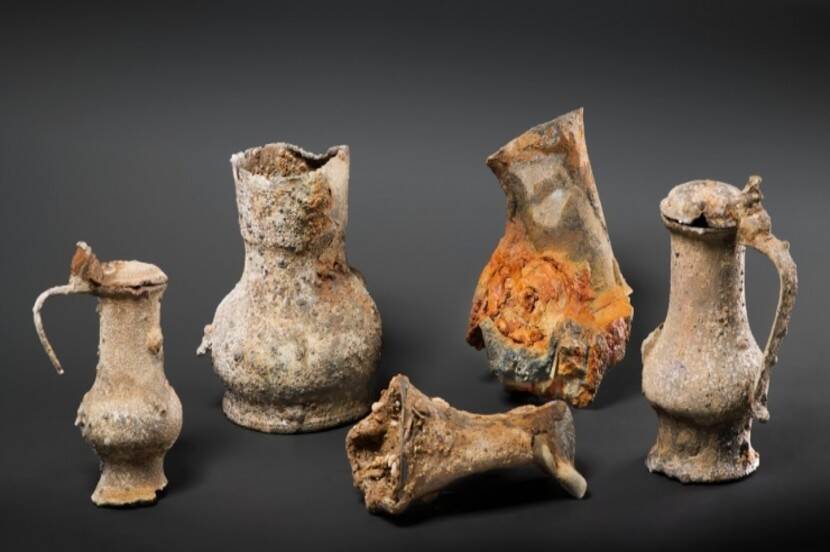 Wreck finds
We are now on fire. The wreck has been heavily grazed by fishing nets over the years, and parts of the ship are upside down. First we started to investigate a section just behind the big mast, where two huge anchors were stored. We have released the remnants of the galley, lifted several bottles of wine, exposed the construction and also lifted parts of it, including a fantastic 'knee' (support of the deck) that shows how big these ships were. We also lifted two intact, beautiful wooden barrels (the contents of which are still unknown), and several crates of the cargo. The ship was loaded with heavy building material: copper plates of more than one meter in size, blocks of granite, iron bars and lead.
We then went northward to connect with the parts we exposed last year. However, migratory sand dunes forced us to look for a new area. This area, covered with thick layers of sand, can be exposed again in just a few days; those dunes migrate rather quickly.
The new area contains much more personal material, but also utensils: shoes, tin plates, pottery, buttons and a large pan. In addition, we expose more and more of the wreck remains. The wood also provides us with a lot of information about the ship itself. It is puzzling, but I see a lot of beautiful stories coming up again.
Involving the public
Spin-offs from the project show how enthusiastic the people are. Recently, for example, we had an 'Ask an Archaeologist' day. The team from the #Rooswijk1740 also helped and we answered several questions from the audience. A show-box-making contest for children was organized and the Nautical Archeology Society is again diving with amateur archaeologists at the site. These initiatives take place around the edges of the project. I also gave a lecture to the public during the Ramsgate Festival. 
Kind regards,
Martijn Manders
More blog posts