Agnes Brokerhof receives ICCROM Award 2023
On 2 November, the General Assembly of ICCROM (International Centre for the Study of the Preservation and Restoration of Cultural Property) presented their prestigious award to Agnes Brokerhof, senior researcher at the Rijkserfgoedlaboratorium of the Cultural Heritage Agency of the Netherlands (RCE). Brokerhof was awarded for her significant contribution to numerous ICCROM programmes and projects on cultural heritage conservation, both in the Netherlands and internationally.
The ICCROM Award is given to individuals who have made significant contributions to the development of the organisation or who have particular merits in the field of cultural heritage conservation, protection and restoration. Agnes Brokerhof has been involved in material technical research and heritage risk management since the 1980s. She has been involved with ICCROM since 1992 and provides training programmes and lectures to other heritage professionals worldwide.
"I am always amazed at the number of projects ICCROM undertakes around the world and the lasting impact the organisation has, despite working with a relatively small team," says Agnes. "The impact of the organization is due to the 'ICCROMized' professionals they carefully select and connect in a powerful network. I am proud to be a link in that network and do my bit. I feel very fortunate that I can always do what I enjoy and have fun doing what I do; and then be rewarded for it.... others must have enjoyed my work too!"
[Text continues below photo]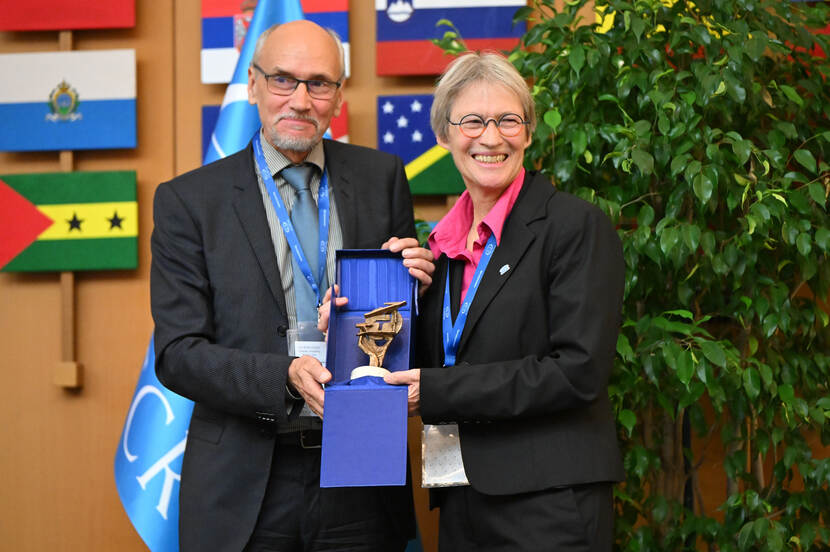 Respected researcher
John Robbins, chair of the ICCROM Council: Agnes Brokerhof is an internationally active and widely respected researcher who has contributed significantly to many ICCROM initiatives. Her contributions to conservation theory, science and practice cover a wide variety of heritage: from built heritage and natural science and humanities collections to contemporary art. The focus of her work is on finding practical and cost-effective solutions to problems in heritage conservation and management, and developing new knowledge and methods to support heritage institutions to carry out their work more effectively and efficiently.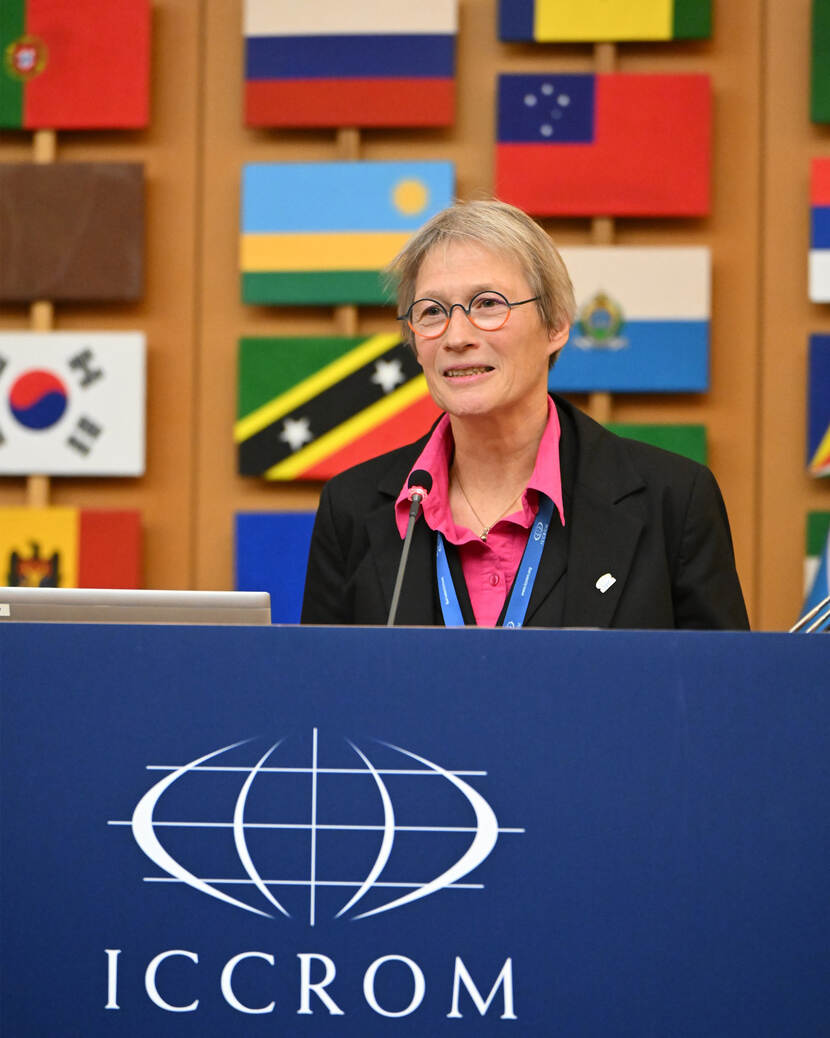 Susan Lammers, general director of the RCE: We are extremely proud that Agnes is one of our colleagues. At the Rijkserfgoedlaboratorium, she does important work as a senior researcher. Currently, her activities focus on supervising and applying the principles of risk- and values management in the decision-making process of collection care for advisory requests. For example, together with the Art Collections Department of the RCE, she is developing a decision-making model for loaning objects to non-museal organizations. The recognition from ICCROM shows that her work and expertise are not only of great importance to the Dutch heritage field, but are also seen and appreciated internationally. We warmly congratulate Agnes on receiving the ICCROM Award 2023.
About ICCROM
ICCROM, as an intergovernmental organisation, works with member states to protect heritage. The organisation works with and for professionals working on the frontline of heritage conservation, such as scientists, conservators, museum curators, site managers, archivists, researchers and archaeologists. The role of communities in heritage conservation is also part of the organisation's scope of work. ICCROM has been linking all its activities to the United Nations Agenda 2030 and the Sustainable Development Goals since 2017.
The RCE represents the Netherlands within ICCROM's General Assembly and nominates candidates for the Council.