Collections
The Netherlands is a worldwide leader when it comes to managing and conserving museum collections. The Cultural Heritage Agency shares this expertise with professionals in Shared Cultural Heritage (SCH) partner countries.
Conserving and managing collections for the future
The Netherlands has a wealth of expertise in the field of museum collection management and conservation. Our experts are specialists in various fields, such as climate control strategies and heritage safety. The Agency makes use of this expertise on a daily basis as the manager of a part of the State art collection and as an advisor to other managers of the State art collection.
Many professionals and organisations in SCH partner countries are committed to the conservation and management of museum collections. However, some of the partner countries don't have access to the necessary specialist expertise, while there is a great need for it. The Agency is committed to responding to this need.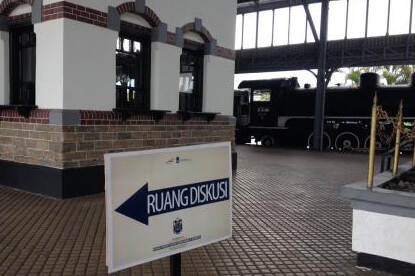 Areas of expertise
The Agency supports and advises collection managers in partner countries on the conservation, management and accessibility of their collections. The Agency makes knowledge available in the form of advice, training and instruments. We offer practical solutions and instruments for daily use, which are based on real-life issues and experience.
In our projects as part of the Shared Cultural Heritage Programme, we seek intensive cooperation with collection managers, universities and other partners both within and outside the Netherlands. We offer expertise and advice in the following areas:
Knowledge – will not only be shared but developed as well, for the benefit of the Netherlands as well as the partner countries
Public & Profit – reaching an audience and contributing economically are important motivations and conditions for preservation
Network – building and maintaining networks is an important condition for the quality of SCH-activities
Accessibility – improving the accessibility of SCH-collections in the Netherlands
Examples of our projects
Workshop on managing indoor climate risks
In 2015, the Agency organised a workshop on climate control strategies for a group of heritage professionals in Sri Lanka. The workshop focused on identifying, analysing and reducing climate risks to museum collections. Participants applied the knowledge acquired to a case study of their choice.
Master classes on safe heritage
Outside the Netherlands and Belgium, the richest collections of Dutch and Flemish paintings can be found in Russian museums. The Agency contributes to an annual seminar on the scientific study and conservation of these works. During the 2015 seminar, two of the Agency's safe heritage experts gave master classes on safety risks to heritage, such as fire, water and theft.
Historic rolling stock in Indonesia
The Indonesian railway organisation PT KAI is working on the revitalisation of old railway heritage dating back to the Dutch colonial period. The Agency supports the railway organisation in their plans by providing training and advice. In 2015 for instance, we organised a workshop on collection management in the Ambarawa railway museum.