Vasa: finding the missing cannons
Vasa is the world's most visited maritime exhibit. The Swedish ship sank on her first sailing in Stockholm harbour on 10 August 1628. King Gustav II Adolf had commissioned Dutch master shipwrights to design the ship, and an English engineer led the first salvage efforts. You can admire the ship in the Vasamuseum in Stockholm.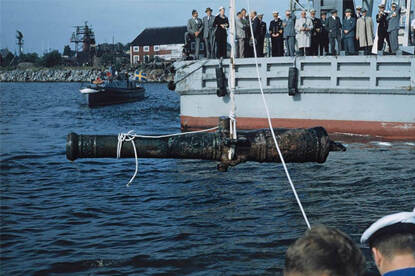 Where are the 61 cannons?
Vasa was fitted with 64 cannons. When she was salvaged in 1961 only three of these were found. The other 61 are still missing, one of which could still be lying at the bottom of Stockholm harbour. The rest of them, records show, were sold to Great Britain, the Netherlands and Denmark.
Or were they? What happened to these cannons raised from Vasa in 1663–1683? Were they ever used, or were they melted down? Have any of them survived intact down the centuries? If so, where are they and how did they get there?
Project 2018
In 2018 a project was started to answer these questions and to engage the public in increasing our understanding of Europe's maritime and industrial history, and the international arms trade in early modern times. Field research of the wreck location of the Vasa almost certainly revealed one of these missed cannons.
This project, a joint Swedish, British and Dutch initiative spearheaded by The Friends of the Vasa Museum in conjunction with the Vasa Museum, Swedish National Maritime Museums and the British and Dutch embassies in Stockholm, will allow our countries to revisit, in a new spirit of exploration, our shared history and strengthen the bonds between us. The Cultural Heritage Agency of the Netherlands is one of the Dutch participants in the project.